It's no secret how much I love fonts. I always have my eye out for interesting new fonts and ways to use to fonts I have in my stash. Classic fonts, trendy fonts, type writer fonts, swashes, ornaments… come to mama! I welcome them with open arms. There is one font category that hasn't seen my favor over the years: Dingbat fonts.
Poor, neglected, have to push all the buttons to find the right one, previously annoying this girl, dingbats…. BUT that changed when first I learned from Leah, the mastermind of Mommyish, that you can view the characters on a site like Font Squirrel during the DSG Podcast. Shortly after that episode, Photoshop CC wizards decided letting us see the characters and goodies is a great idea. (they are correct)
I pin a lot of fonts.
Follow Carrie Arick's board Fun with Fonts on Pinterest.
Very few that I pin are dingbats and out of those select dingbats, only one of them is memorable to me and almost 2,000 repinners. That special dingbat font is called StateFace. Each character outputs a state, which is both simple and brilliant: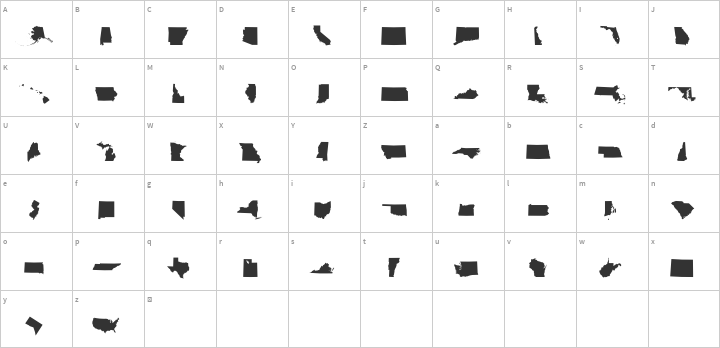 I finally decided to use this font to make a page about Delaware. Did you know you can clip paper text in Photoshop and Photoshop Elements? You can also create a mask in Paint Shop Pro to get paper onto your text. You don't even have to rasterize your text layer.
It's so simple:
Select the font you'd like to use, type what you'd like on the page.  I used "H" for the shape of Delaware.
Use the pick tool:  grab a corner point and hold the shift key down at the same time to enlarge the text proportionately. Confirm your enlargement by clicking the check mark. (you can also just highlight the text/shape and type in the point size you'd like, but I usually just eyeball it)
Place your paper on the layer above your text.
Use Ctrl+Alt+G to clip your paper. In PSE, it's just Ctrl+G.
Marvel at your awesomeness.
You don't have to stick to papers either, you can easily clip a photo, too. If you still aren't sure about clipping, check out this video from Digital ScrapbookingHQ. Learn how to clip in Paint Shop Pro here.
I also clipped a paper to the text that makes up my title. Clipping is such an incredible way to get mileage out of your papers and fonts.
Using a font like StateFace would be an excellent way to document your summer travels in the states, document the places that you've lived and worked, your travel bucket list and so much more! The bonus is that you don't have to search out any specific product… you can use a font with any digital kit thanks to clipping.